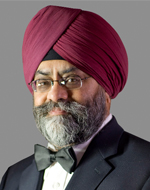 Manjit Singh CPA is a small CPA firm with a highly skilled and competent professional team that provides one-to-one service to all our clients. Our firm was established in 1991 when Manjit Singh started his practice by acquiring another CPA business in the Washington metro area. Today, it is one of the highly respected firms in the area.
We are committed to providing close personal attention to our clients. We take pride in giving you the assurance that the professional service you receive at our small firm comes from years of advanced training, experience and our investment of time and resources on continuing education, state of the art computer technology and extensive business relationships indicative of our commitment to excellence.
We would also like to assure you that your financial information is safe in our offices. All matters handled by us are treated with strict confidentiality and the highest standards of Accounting Profession's Code of Ethics. No information about your affairs will ever be released to unauthorized persons.
We guide our clients through the whole process of setting up, running and/or expanding their business: this includes choosing the appropriate organizational entity, incorporation, writing business plans and preparing loan packages, compliance work, monthly and quarterly book-keeping and write-up services, payroll services, tax planning and income tax preparation. We take care of all the financial matters while you concentrate on the physical operations of your business. This division of work – each expert concentrating on his area of specialization – provides efficiency, potential increase in profits and an enhanced opportunity for success.